Since there are so many different water ionizer brands out there, it can be hard to know which one is right for you. There's a lot to like about the Tyent USA Water Ionizer.
It comes with more than 20 different preset programs, auto cleaning functions, and an auto-shut-off timer. The device even has a fountain light that changes color based on the pH of your water.
But what we really love about this brand is its focus on quality and customer service. If you're considering investing in a water ionizer, here's everything you need to know about the Tyent USA Water Ionizer before making your decision.
What is a Tyent Water Ionizer?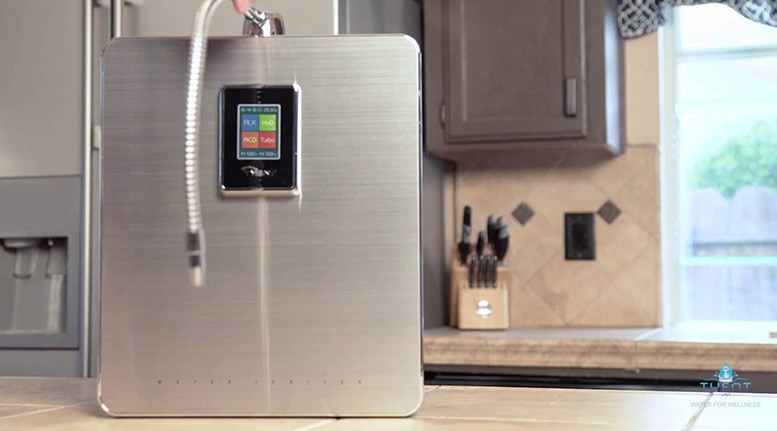 Tyent is one of the most prominent water ionizer companies and the producer of our favorite model, the UCE-11. The ACE-13 is more powerful than the UCE-11, and it includes some remarkable new functions.
The ACE-13 is one of the most advanced water ionizers from Tyent USA. This model has a sleek and modern design that will look good in most kitchens.
The machine is also very easy to operate. You simply need to plug it in and fill up its reservoir with tap water or filtered water. You can then push a button to start the process of electrolysis.
In the ACE-13, you'll find a new water filtration system with an ion exchange capacity of up to 20,000 gallons, an increased level of water filtration compared to the UCE-11. The ACE-13 comes with a beautiful design, a large LCD screen, and a self-cleaning function.
The ACE-13 also has a pH Sensor and Alkaline Sensor to measure the pH level of your water and monitor how alkaline it is. When the pH level drops below a certain threshold, the machine will automatically mix a small amount of acid into the water to bring the pH back up to the desired level.
Similarly, when the alkalinity of the water exceeds a certain threshold, the ACE-13 will automatically mix in the base to reduce the alkalinity. These sensors enable the ACE-13 to self-regulate its pH level to maintain a stable and healthy level for your drinking water.
The ACE-13 is also the first-ever water ionizer from Tyent that is WiFi-enabled. With this feature, you can monitor the status of your water ionizer from your smartphone or computer. You can also use this WiFi connection to schedule preset times for the machine to start and stop automatically.
How Does a Tyent USA Water Ionizer Work?
As we mentioned earlier, a water ionizer uses electrolysis to increase the pH level of water. The process of electrolysis generates "charged" oxygen molecules and hydroxide ions. The charged ions can then break down substances like minerals, chlorine, bacteria, viruses, and heavy metals.
The UCE-11 water ionizer incorporates a 10-amp SMPS power supply that delivers 20% more amperage than the previous 9-plate models and a higher percentage than any other brand.
The ACE-13, on the other hand, uses a 7th Generation SMPS Plus power supply.
A 9-plate water ionizer unit only produces a 14% increase in -ORP, but the 11-to-13-plate unit produces a 25% increase, resulting in a 25% increase in both pH and -ORP performance.
Key Features of the Tyent USA Water Ionizer
There are several key features of the Tyent USA Water Ionizer that we think you'll find useful. These features include:
1. 13 Platinum-Coated Titanium Water Ionizer Plates (Solid/Mesh Hybrid Design)


Combining solid and mesh ionic plates in one water ionizer maximizes efficiency and performance. Platinum-coated titanium ionic plates are the most efficient at removing impurities from water.
The combination of mesh and solid plates maximizes the surface area of the electrodes and enables the ionic current to be distributed evenly throughout the water.
While other brands may only feature limited solid titanium plates, the Tyent USA water ionizer features 13 platinum-coated titanium water ionizer plates. This is an impressive number of plates for a water ionizer at this price point.
The Tyent USA has a solid/mesh hybrid design, which means that the solid plates are used for purification, and the mesh plates are used to increase conductivity.
This design increases efficiency by as much as 25 percent compared to other water ionizers with only solid titanium plates.
The increased efficiency means you get more purified water in less time, which is definitely a good thing if you want to save money on your utility bills.
2. Pulse Wave Technology (PWT) + High-Speed Turbulence Technology (HTT)
Tyent USA uses PWT and HTT technology to cleanse tap water before it enters the machine. These technologies cause turbulence in the form of tiny micro-bubbles that help break down larger contaminants like heavy metals, pesticides, and chlorine.
These bubbles also help remove calcium deposits from your faucets and shower heads while they're at it!
The end result is cleaner, fresher smelling, and healthier drinking water with fewer impurities and bacteria than other types of filters like carbon filters or reverses osmosis systems.
3. Auto-Reverse Feature
This is one of our favorite features that we have seen on this model. It's called an auto-reverse feature. It allows you to reverse the flow when you're in the middle of a cleaning cycle to flush out any contaminants that may have been accidentally sucked into the machine during operation.
It prevents clogging from occurring, which helps ensure that your machine will last as long as possible.
4. pH Range: 1.7 to 12.5
Other water ionizer brands may only offer a pH range of 2.5 to 11.5. But the Tyent Water Ionizer can be adjusted to a pH range of 1.7 to 12.5, which is a major advantage over other water ionizers on the market.
This pH range gives you the flexibility to choose the right level of pH for your needs. For example, you can lower the pH of drinking water to help prevent the growth of certain bacteria like E. coli.
Or, if you are trying to alkalize your body, you can increase the pH of the water to help reduce stress on your bones and joints.
With this product, you get the flexibility to vary the pH level of your drinking water as needed.
5. Tyent USA Water Ionizer Max Negative ORP is -1050 mV
The ORP reading of -1050 is more than enough to kill bacteria, viruses, and other pathogens in water. The USA Water ionizer has a max reading of -1050 mv, with an active reading of -950 mv. USA Water's ionizers give you the power to control ionization with a push of a button.
Tyent USA Water has a patented Smart Sensor Technology that can detect if the water in your home exceeds a certain level of contaminants. Once that happens, the ionizer will start to increase the negative ORP levels until it reaches the desired level of -950 mv.
6. Dual-Filter: TM-Ceramic and Carbon Block
Ceramic and carbon block filters are widely used in water ionizers, water filtration, and purification systems for the removal of many contaminants.
The combination of both types of filters in one unit is claimed to provide double protection against many types of contaminants.
7. Eco Mode

The device saves electricity by only displaying the time on the LCD screen when not in use.
8. Automatic Shut Off
The automatic shut off feature will automatically turn off your water ionizer when it reaches its desired pH level (from 6+). You won't have to worry about leaving it on overnight or forgetting about it entirely.
This feature is especially important if you have small children or pets around the house who could accidentally drink from it!
9. Motion Proximity Sensor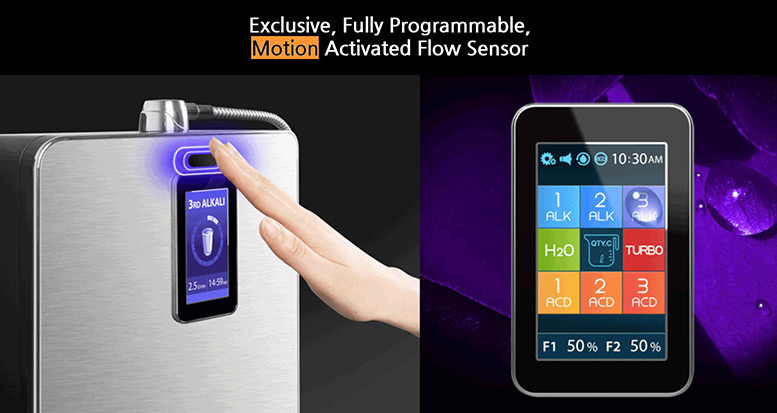 The Proximity Sensor from Tyent USA is a water ionizer sensor that automatically shuts off the water flow when the ionizer is not in use. This sensor can be used with any water ionizer that has a flow switch.
The Proximity Sensor from Tyent USA is also a CO2 monitor, which will automatically turn on the ionizer when CO2 levels exceed 600 ppm.
It has an LED indicator light that lets you know when the sensor has been triggered. This is a great way to reduce water usage. When not in use, the sensor will shut off the water flow.
10. Other Features

The Tyent USA comes with other useful features like a sleep mode and a safety timer so that you don't accidentally leave your machine on all night long.
The unit is made from BPA-free materials and has an LCD display screen so that you can easily read your current settings or monitor how much water has been purified in total since you started using it.
The filter comes with an easy-to-replace design so that it won't be necessary to call for service if something breaks down. You can simply change the filter yourself or take it back to where you bought it for replacement.
Tyent USA Filter Life and Cost
To get the best value out of your water ionizer, you need to regularly change the filters so your water will keep tasting great and be safe to drink.
The average filter life of a water ionizer is about 950 gallons. This means you will have to change the filters after 950 gallons or approximately one year.
Water ionizers have a high initial cost but are a good investment. You will save money in the long run since you won't have to buy bottled water anymore.
The average cost to replace the filters is around $149.00, which is a little bit more expensive than the average cost of other ionizer filters on the market. However, you get what you pay for with Tyent ionizers. The company uses only the best materials and latest technology to provide the highest quality water filtration system.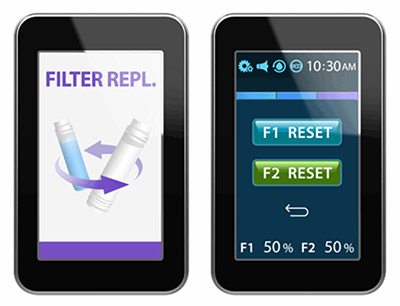 Once you replace the filters, you simply reset each filter using the LCD touchscreen to restart the filter life countdown. Optional voice alerts announce filter life and remind you when it's time to replace.
---
Buying Guide
If you're interested in purchasing a Tyent water ionizer, but you're a little short on cash, there are options. You can make a low monthly payment that works with your budget, and you can also get 0% interest if you decide to go with 12-month financing.
No matter which option you go with, Tyent USA has water ionizers that will work for your budget.
---
Countertop Installation of Tyent USA
If you want to install your water ionizer on the countertop, follow these easy steps:
Remove the water ionizer from the box and inspect it for any damages. If you find any, contact the seller to get a replacement.
Plug in the Tyent USA and turn off the water supply. Make sure there is no water in the unit.
Place the water ionizer on the countertop and secure it with the mounting brackets provided.
Turn on the water supply and make sure there are no leaks.
Fill up the water ionizer with water and let it run for at least an hour before you drink it. This will clean the unit and remove the chlorine from the water.
You can also use filtered water instead of tap water.
The water ionizer will automatically turn off after six hours, so ensure you fill it up again.
You can also adjust the flow modes and choose the one you like best.
Pros of the Tyent USA Water Ionizer
The greatest advantage of the Tyent USA ACE-13 is its Ultra Filter Set for the HYBRID, which utilises a .01 micrometer filtration level comparable to the filtration level of kidney dialysis machines. In addition to providing the purest, healthiest, and safest alkaline water on the planet, Ultra Plus filtration guarantees the most effective filtration possible.
You can also schedule preset times for your machine to turn on and off automatically, which makes it easy for users to get their desired level of purity on demand.
We like how easy it is to use this water ionizer because it has such an intuitive interface. The touch screen display makes it easier for users to change settings without using any manuals or instruction manuals. The machine is also very durable, so you can expect it to last for a long time even with regular use.
Cons of the Tyent USA Water Ionizer
Some users may be disappointed that the water ionizer does not come with a warranty. However, this is actually not a major issue because the product is built to last and should work well for many years even if you use it regularly.
Another possible issue is that the product's build quality could be better. While it works well overall and should last for a long time, some users may still find its construction to be insufficient for their needs.
Final Words
Overall, though, the Tyent USA Water Ionizer ACE-13 remains one of the most advanced water ionizers on the market today.
Other water ionizers like Kangen Water, Alkaviva, and Aqua Ionizer have less than ten plates each, making Tyent USA a better choice.
The specific feature makes it easy to monitor your supply levels and schedule preset times for your machine to turn on and off automatically, which makes it much easier to get clean drinking water whenever you need it.
This water ionizer has an intuitive interface that makes changing settings much easier than ever before—you can change your settings without using any instruction manuals or manuals at all.
If you are looking for an affordable water filtration system that provides fresh and healthy water, then you should definitely look at the Tyent USA water ionizer. The product comes with a reasonable price tag and is also very easy to use.