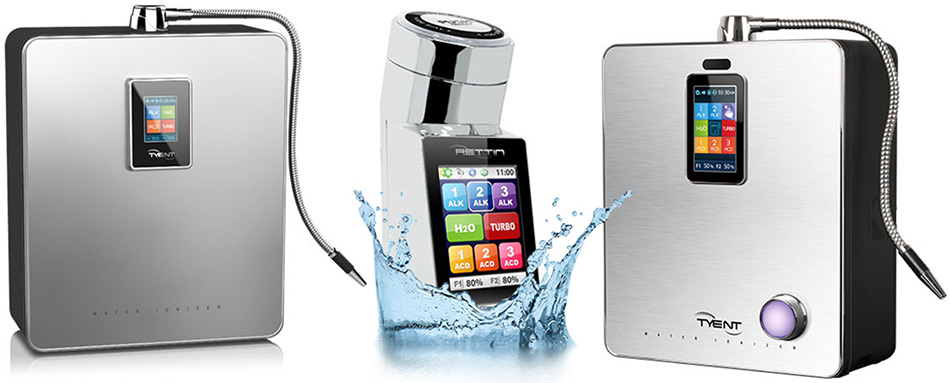 Today, there are a lot of people looking for the best water ionizers out there online. We have been evaluating these for more than ten years, so we are able to help you find the perfect alkaline water machine for your home at a great price.
The best water ionizer products usually come with lifetime warranties so that you don't need to worry about losing your money if you're not satisfied. Most of them have dual water filtration system, which makes sure that the machines on the list are free from all impurities. You also want to be sure that the alkaline water machine you buy has a perfect alkalizing filter.
High quality water ionizers basically follow the same procedures and may be better than cheaper models in several ways. This is why high-end models tend to cost more.
Inside this guide, we'll be reviewing the best water ionizer products offered on the market.
Two Things to Consider
When buying an alkaline water machine, there are different models available. However, you need to consider only two main things when purchasing one: the quality of the machine itself and the quality of the alkaline water you're getting.
If you don't understand how these factors affect the choice of model, you might not be able to choose between different models.
1. ORP (Oxidation Reduction Potential)
An alkaline ionizer will produce a negative ORP in the water, which means that the water has an ORP (negatively charged ions). This factor measures the capacity of water to prevent oxidation from occurring. A positive sign like (+) is called Oxidation Potential. It measures the amount of oxidation occurring, which isn't exactly good.
Oxidation occurs when metals rust or fruit gets those brownish spots. Alkaline water has a high ORP (oxidation-reduction potential), which means it can remove free radicals from the body.
Alkaline water has a negative ORP (oxidation-reduction potential), while normal tap water has a positive ORP. A higher amount of (–) means your body will be better equipped to fight oxidation.
2. pH (potential of Hydrogen)
An ideal alkaline water machine has a proper pH level. pH typically ranges from 0-14, with 0 being acidic and 14 being alkaline. 7 means neutral. Tap water usually has a pH range of around 7, which makes it neither alkaline nor acidic. Your body's pH varies throughout the day depending on whether you drink or eat something or engage in physical activity.
Most people have a pH level below 7 because they eat and drink too much junk food and don't get enough water.
Good alkaline ionizing water machines will try to produce higher pH levels with some types of water. For example, if you live in an area where the water has very soft or hard water, then there might be issues with the ions in the water, which could cause problems.
The main difference between water ionizers lies in the fact that they transform regular plain tap water into a perfect pH range and negative ORP. Some models may work more effective than others. However, we encourage you to do some research before making a decision.
7 Best Water Ionizers and Alkaline Water Machine
Now that we've shown you what to look for, it is time to roll out some of the best water ionizer models that have been received warmly by customers. Take the time to read and know about each model; who knows, your chosen device might turn out to be one of these units.
1. TYENT USA UCE-13 Plus
The Tyent ACE-13 Above-Counter Water Ionizer is undoubtedly one of the best water ionizer machines. It is also one of the more expensive options, but that comes as no surprise when you consider the quality of this product.
The pH level of this alkaline water ranges from 1.7 to 12.5 PH which means that your body absorbs more nutrients and minerals than regular tap water.
In terms of its model, this alkaline water ionizer machine looks superb in brushed stainless steel. Beyond the stylish good looks, every component smacks of extreme quality.
This Tyent model has been upgraded from the original UCE11 by adding a higher pH levels, a larger capacity water tank, a stronger -ORP levels, a more powerful pump, and a higher water flow rate filter.
This makes this unit ideal for those who want to make large quantities and higher quality of alkaline water daily.
The Plates
Under the skin, the technology continues to impress. The extra-large platinum-coated titanium plates lie at the heart of the ionization process.
There are 13 plates in total, making this a highly efficient and effective machine. It also includes a 0.5-micron pre-filter and a high-end active carbon water filter. This leaves the water smelling and tasting great. It is certainly one of the best ionizers for pure, healthy water.
The Technology
The therapeutic molecular hydrogen and revitalizing electrolytes contained in the alkaline water produced by the ACE-13 make it about the healthiest water in the world. That's probably the most important thing to consider when comparing water ionizers, the health benefits.
Anyone will appreciate the large 4" TFT LCD screen. It is fully customizable and has amazing touch screen features. You can easily and quickly select your desired PH range for the water you're using.
It has a proximity motion sensor for automated water flow. It will even measure the amount of water dispensed with the auto-stop function. There are several pre-programmed eco functions to save electricity with timed sleep modes.
The Warranty
If you're going to be paying top dollar for an ionizing water machine, you will probably expect a lot. The good news is that this machine has a unbeatable lifetime warranty on service and parts.
Many companies use warranties as a way to market themselves (often with many conditions). However, a Tyent USA warranty isn't just a marketing ploy; it's genuine.
This is a high-end, US-made product and certainly the best alkaline water machine you'll find. The technology is unrivaled, and every effort has been made to ensure this is a durable and reliable water ionizer, making it money well spent.
This unit comes complete with everything you need to get started right out of the box. No assembly is required.
Simply connect the power cord into your electrical outlet and plug in the included AC adapter. Then add water to the top of the unit, attach the filter, and enjoy the benefits of alkaline water from this high-tech water ionizer machine.
2. Aqua Ionizer Deluxe 9.5
While the older version, Aqua-Ionizer Deluxe 7.0, has only 7-plate technology, its newer counterpart, Aqua Ionizer Deluxe 9.5, features state-of-the-art 9-electroplate tech­nology.
It has the same easy-to-use settings as the smaller 7.0 model with seven options that you select by means of touch buttons – 4 alkaline, 1 purification only, and 2 for acidic water.
The LCD screen is similar to the smaller model and tells you the exact status of the water that you're using.
It also has high-quality active carbon water filters that last for about 1580 gallons of water.
The Plates
Aqua Ionizer Deluxe has plates made of titanium and coated with platinum, making these very efficient and durable. The 9 plate ionizer displays its superiority in the range that it can adjust the pH range and its ORP range.
The variable pH levels range from 3 – 11.5, and the ORP range goes as low as -860. This can be easily be described as the ultimate water ionizer, and it has the best ORP figures out of all the machines in this review. This is about as good as it gets.
Despite the extra electrolysis plates, this is not a particularly large countertop machine, with dimensions of 16.6 X 12.4 X 8.7 inches.
The Warranty
The quality is unquestionable; it's a fantastic water ionizer machine worth its high price tag. This product is ETL listed, uses FDA-approved plastics that are certified as being food-safe, is RoHS certified, and has undergone ISO 9000:9001 factory testing.
This alkaline water machine is also bound to last for a long time because of its impressive erosion and oxidation-resistant design.
The manufacturer provides a lifetime warranty of its parts and a 5-year warranty of the defects in materials.
Many satisfied customers of the Aqua-Ionizer Deluxe are raving about its powerful water filter, power-efficient and durable plates, self-cleaning mechanism, and FDA-approved components.
The water ionizer machine is also easy to fit, with many users reporting that they had little trouble hooking the machine up to their existing water systems. The machine has a simple design.
While it isn't as flash and modern looking as some of its more expensive counterparts, its sturdiness and reliability mean it would make the ideal addition to any health-conscious household.
3. Alkaviva Water Ionizer Machines
The AlkaViva looks absolutely stunning. A clean, modern design with brushed metal trim. This water ionizer has an easy-to-use control panel with a large LCD screen — everything you'd expect from a high-end product at a pretty mid-range price.
The Alkaviva Water Ionizer features a touch screen display that makes it very convenient and easy to use. It likewise features a matting technology that is patented by its manufacturer.
The Alkaviva water ionizer machine works by removing contaminants like chlorine and heavy metals from your normal water. These elements cause the pH level of our body to become acidic.
When we consume acidic water, it causes many health problems, including fatigue, skin rashes, headaches, depression, and even cancer.
This product uses a patented technology called "ion exchange resin," which helps remove impurities such as chlorine, heavy metals, pesticides, herbicides, and other chemicals from the water. The result is clean, fresh-tasting alkaline water that you can drink right away.
Using the Alkaviva water ionizer, you can ensure that your body receives only healthy alkaline water, free of harmful toxins.
The Plates
Equipped with 7 platinum titanium plates, the Alkaviva water ionizer machine can compete with many of the more expensive competitors. It also offers advanced molecular hydrogen (H2) technology for additional health benefits.
Built-in filters remove 99.9% of contaminants, and extensive independent testing has been conducted for 172 known toxins found in drinking water. Ionization performance is pretty impressive: up to 10.5+ PH range and – 800 OHP.
The Technology
The information display is comprehensive through a large LCD screen and includes a filter change alert. An array of touch buttons give you quick access to 8 different water options. One of the most remarkable feats is the incredible energy efficiency delivered by the AlkaViva.
Clever technology monitors water flow and adjusts the power accordingly, up to a maximum of only 150W. This should result in noticeable savings on your electricity bill compared to most other water alkaline machines.
This alkaline water machine also has an impressive array of pre-sets and cleaning cycles. Automatic reverse cleaning improves economy by maximizing filter lifespan.
This easy-to-install unit can run on a single cycle of 10 seconds for every 20 liters of water.
A lot of reviews indicate that the Alkaviva Water Ionizer is durable and can effectively remove mineral deposits from water in addition to producing both alkaline and acidic water.
Furthermore, the AlkaViva Water Ionizer offers wonderfully versatile options. You can connect this alkaline water ionizer machine to your main water supply for whole house water filtration and ionization. Alternatively, it can be used as an under-counter or countertop alkaline water machine.
The Warranty
The Alkaviva Water Ionizer machine has a lifetime warranty, so you can be assured that this device will be at its disposal for many years to come.
Reviews of the Alkaviva model praise its reliability and all-around ease of use.
For about half the price of what you'd pay for some of the most expensive water ionizers, the Athena H2 by AlkaViva is worthy of some serious attention. This is a US brand with a keen commitment to quality and brand integrity.
We would certainly recommend that you look at this water ionizer if you are thinking of buying a new alkaline water machine for your home.
4. Bawell Platinum Alkaline Water Ionizer
The Bawell Platinum Alkaline Water Ionizer is a countertop unit that is small and incredibly user-friendly.
Apart from being an incredibly elegant water ionizer machine, the Bawell Platinum Alkaline Water Ionizer is one of the best water ionizers that you can get. It's also one of the more expensive but definitely worth the extra money. One's immediate impression is that of superior quality, and that extends to what you don't see, too – the engineering beneath the skin.
It uses a dual filtration system to remove impurities while retaining healthy minerals.
Don't let the small size fool you. Attached to your existing sink faucet, this ionizer provides you with a range of different options.
The Plates
This alkaline water ionizer machine uses six high-quality plates (2 sets of 3). It has two internal filters for great water purification, and there's an option of installing 3 external filters for even greater purification.
Even with the extra filtration, this countertop water ionizer isn't a large unit; it measures 11.8 X 6.2 X 15.2 inches and has keyhole slots at the back for wall mounting. The filters are of the best quality and will provide around 1300-gallons of water before they need replacing.
In addition to top-notch purification, the technical specs are quite impressive. The ionizer can make alkaline water for drinking or acidic water for cleaning. It creates ionized alkaline water with a pH balance between 2.0 to 12.0 and an ORP range of +600 mV to -800 mV. It's the negative ORP that provides valuable anti-oxidization, so this is pretty good.
The Technology
The Bawell Platinum is super easy to use. There are four touch-button selections for alkaline, two options for acidic, and one for purified (non-iodized) water. The ionizer also has 35 preset modes to have the perfect ionized water with the press of a button.
The large LCD screen provides more than one would normally expect in terms of useful information. Naturally, it gives you a precise PH reading and the ORP level in millivolts. It also gives you the status of the filters, so you know how far down the line they are, and when the filters need changing, there's a voice prompt to notify you.
Healthier drinking alkaline water will never be more than a button away with the included voice indicators to guide you.
This is a high-quality product and certainly one of the best alkaline water machines available. It's not only premium quality for the materials used in its construction but has been engineered to give superior results.
5. Life Next Generation M11 Counter-top
The Life Next Generation M11 Counter-top is one household appliance you'll feel is worth the investment.
While it's rather pricey, this alkaline water ionizer machine offers many health benefits to justify its rather expensive price tag.
Drinking alkaline water helps rehydrate your body by replacing lost minerals. Ionized water has smaller particles than regular tap water, which makes it easier for our bodies to absorb.
This water can help flush out the toxins and waste products that have built up in the body over time.
It also has antioxidant properties that can eliminate free radicals and prevent cell damage.
The Life next generation M11 counter-top is also equipped with some of the most advanced features you'll find in any alkaline water ionizer unit. And it has a sleek and compact design that should make it complement any look you want in your kitchen
6. Kangen Water
The Kangen Water Ionizer came from Japan and was created by a company called Kangen.
They are known as the creators of the "Kangen Miracle," an electrolytic process that produces highly alkaline water.
The device has been on the market for over 20 years, but it's still one of the most popular alkaline water ionizer models available today.
The Kangen Water Leveluk has been designed to provide you with the best possible way to ensure your water is always at its highest potential.
The Plates
The Kangen Leveluk K8 is the most powerful brand, featuring 8 platinum-dipped titanium plates. This, in itself, is a good reason to consider the Leveluk K8 above most others.
The Leveluk SD501 shares most of the same features as the phenomenal Leveluk K8. The exception is that the SD501 models utilize 7 platinum-dipped titanium plates instead of the 8 used for the K8.
Kangen Water ionizer machine creates water with a pH balance between 2.5 to 11.0 and an ORP as low as -800 mV.
You can use this device anywhere, even if you don't have access to any normal water. It's very easy to install, and it just requires a few simple steps before you start enjoying your new source of clean water.
The Technology
Kangen Water machine features a full-color LCD screen (K8), and a conventional monochrome LCD screen for SD501 models.
This alkaline water ionizer unit uses the latest technology to produce high-quality water, and it works by passing water through a series of filters.
These filters remove impurities such as chlorine, fluoride, heavy metals, bacteria, and more. The result is pure, safe, and healthy drinking water.
You can choose 5 automatic water types at the touch of a button: Strong Kangen Water, Kangen Water, Neutral Water, Beauty Water, and Strong Acid Water.
This system is made up of two parts: the main body and the filter cartridge. When you first purchase the unit, you will need to buy the filter cartridges separately.
Once they arrive, you simply attach them to the main body and plug everything into the wall socket. After that, you can enjoy the benefits of having pure, alkaline water whenever you need it.
The Warranty
The manufacturer provides a 5-year warranty for their alkaline water ionizer products.
Kangen water is easy to set up, basically plug and play. They are aesthetically pleasing and make use of the best modern technology.
7. Jupiter Athena Ionizer
While alkaline water ionizers are known for producing clean and fresh alkaline ionized water, these appliances are not exactly cheap. The Jupiter Athena is one of the more reasonably priced units on the market.
Many homeowners who are umming and ahhing over buying an ionizer machine will be happy to find out that despite its very affordable price, the Jupiter Athena packs a lot of features that can rival even those of its high-end competitors.
The Jupiter Athena boasts seven plate technology. The plates are plated with titanium, meaning these plates won't rust. Thus you can be assured that the Jupiter Athena will last for a very long time.
This machine is also very user friendly with its LCD touch screen display.
You should have no problems operating this appliance as it only takes a push of a button to have the unit start running and producing ionized water.
The Benefits of Having Your Own Water Ionizer Machine
Is there any reason you need to use an alkaline water ionizer to make alkaline water, or is it something anyone can make without a machine? If so, what benefits do you get from owning an ionizing water machine?
Let's look at this question more closely and find out if there are some reasons why you should buy one.
1. Making It By Adding Baking Soda
Making alkaline water by adding baking soda (Sodium Bicarbonate) is commonly advocated on the internet, with many Youtube videos showing people how to do it.
This method will raise the pH level of the water depending on the amount of baking soda dissolved into the water. However, this is not a healthy option and should not be used long term.
The reason why is because people who do this have experienced kidney stone formation and other health complications.
Most people doing this actually overconsume baking soda, leading to these deadly health complications.
2. Adding Alkaline Minerals to Water
Adding alkaline minerals (like lime) to water will raise its pH range. Depending on which minerals are added, you can get a healthy mix or just add one mineral to the water, leading to the same problem as overconsuming baking soda.
Bottled alkaline water from big-name manufacturers is typically high in common minerals like calcium or magnesium.
Alkaline bottled water is produced in large scale production facilities where they carefully control what is added to the water and the amount.
When you're on the go, name brand bottled alkaline water (or any bottled water for that matter) is a safe and healthy choice. However, it is expensive, and the price adds up quickly over time, so it's not always an affordable option.
You may make other kinds of alkaline drinking water with minerals or even chemicals.
These sources, such a pH booster drops, will raise your drinking water pH. However, you don't really know what is being put into them. You may add way too many drops or too few, potentially overdosing them in the long run.
3. Having Your Own Water Ionizer
The healthiest and most natural way to get alkaline water benefits in your drinking water is to use a water ionizer.
This is because the water ionizer filters your water and then uses the process of water electrolysis to separate the naturally occurring alkaline and acidic minerals in your water.
Most people think that the higher pH range of water is beneficial, but this is not true. The health benefits stem from the ORP or negative Oxidation Reduction Potential in the water, which enables the water to act as an antioxidant in the body, neutralizing positively charged free radicals. This is the source of the health benefits highlighted in all the medical studies.
Only ionized water (Electrolyzed Reduced Water or Alkaline Ionized Water) possesses this property. Moreover, it is only by using water electrolysis that you will be able to make this water which has already been researched and found to be beneficial for your health.
People think it is the higher pH range that is beneficial, partly because it's easy to explain and to market higher pH water to consumers. It is also extremely cheap to bottle tap water, add alkaline minerals, and label it higher pH 9.5 or 8.0 or 8.88 drinking water.
This misconception is mainly due to the fact that large corporations that used to sell carbonated sugar water, later replaced by bottled alkalized water, found it more lucrative to charge an additional fee for bottled alkaline waters than to continue selling carbonates sugar water.
Final Words
Alkaline water ionizers offer a highly efficient way to improve the quality of your drinking water. Alkaline water has fewer contaminants than regular tap water and slightly alkaline pH.
If you've decided to buy an ionizer, it's time to begin your search for the best one. If you have more budget, go for Tyent USA. But if you are on a tight budget, we prefer The Aqua Ionizer Deluxe 7 water ionizer because it's easy to use and produces high-quality water. We think this option provides the best combination of features, applications, and prices. It's one of the most capable water ionizers we've tested, and it's available at a reasonable price.
There are dozens, possibly hundreds, of water ionizer models to choose from, so researching which one is best for you is essential for helping you weed out the good from the bad. Look for a good deal, but don't buy anything without contacting the manufacturer first.