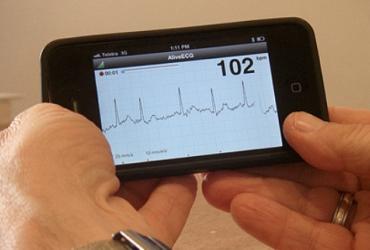 A smartphone app may help atrial fibrillation patients by telling them whether they should take blood-thinning drugs or not, as per a new research compiled by PerfScience. The patients have to just monitor heart rhythm with the app.
People with atrial fibrillation, an abnormal heart rhythm characterized by rapid and irregular beating, are usually suggested to take blood-thinning medicines. Although the anticoagulants are beneficial, they can even lead to side-effects if a patient takes them regularly.
Warfarin is the most common drug taken by atrial fibrillation patients. Unabatedly, these drugs are beneficial, but they cause undesirable effects during long-term use, says Francis Marchlinski, a doctor at the University of Pennsylvania Health System and an author of the study. Marchlinski links regular use of blood-thinning drugs to increased risks of bleeding.
Even minor bleeding may lead to serious health issues, such as death, explains Marchlinski. In such situations, it becomes necessary for a patient to take the drug only if it is needed, as per the doctor.
During the study, Marchlinski and other researchers analyzed novel anticoagulants, also known as NOACs. Dabigatran, rivaroxaban and apixaban are some of the commonly used NOACs that work faster than warfarin. About 100 people were included in the study who were previously on daily NOAC treatments. When the study started, the participants didn't have prolonged signs of atrial fibrillation.
They were asked to monitor their pulse twice a day and nine had to check their heart rhythm with a smartphone app. They also asked to avoid the drugs when they knew their fibrillation that could persist for around one to two hours.
After just 18 months, about 25% study participants had to take NOAC once and just six had to resume daily NOAC treatment. No participant had stroke or mini-stroke, while just one had a minor bleeding episode, as per the researchers.