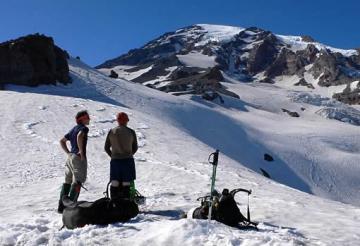 At six times the historic rate, Mount Rainier's glaciers are melting and the reason behind it is climate change. Melting of ice has led to river flooding, and has also killed old-growth forests, endangering historic national park buildings.
Researchers have predicted that the effects of climate change are going to destroy habitat for plant and animal species up and down the mountain and to study these effects researchers are flocking Mount Rainier. The glacial outbursts also are destroying the roads, which give access to the park's wonders.
A team of researchers and Paul Kennard, who is a National Park Service geomorphologist with the help of laser scanners locating sources of rock coming off the glacier and the volume also. The Nisqually Glacier is one of Rainier's 28 named glaciers that are most accessible to visitors and it is also the one which has been receding quickly since 1983.
The park's river beds are filling up because of sediment from the glaciers and this also destroying roads quicker than the park can renovate the. It is also raising the distinctive possibility that, before visiting the park by private automobile it may no longer be feasible.
According to scientists, clear evidence of climate change is the rate at which Mount Rainier's glaciers are melting. There is a possibility that increasing temperatures might alter the current mix of plant and animal species in the park, according to biologists.
Park Service Director Jon Jarvis said in an interview with The News Tribune that climate change is visibly caused by human.
Jarvis said now it is taking place and the impacts can be noticed and there is need to step up to the facts and take actions that will be beneficial.
"Basically, the whole mountain wants to fall down. We have a tremendous amount of sediment coming off our glaciers, and it's literally filling up our rivers and choking them", said Kennard.