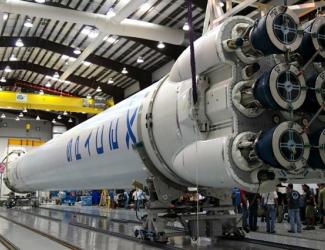 SpaceX Falcon 9 rocket is all set to launch a communications satellite for Inmarsat of London from the Launch Complex 39A (LC-39A) at NASA's Kennedy Space Center (KSC) on coming Monday, 15th of May.
The private-sector space firm is targeting a fifty-minute launch window that will open at 7:20 p.m. EDT or 23:20 GMT tomorrow.
The telecommunications satellite in question is Inmarsat-5 F4. Initially it meant to be a trio of spacecraft, but London-based Inmarsat triggered the option to have a fourth built to enhance the capabilities of its Global Xpress satellite broadband network.
Like Inmarsat-5 F1, F2 and F3, the fourth satellite in the series will provide up to 50Mbs of data per second in addition to voice services to terrestrial terminals. Powered by a couple of solar "wings," it will operate in the Ka-band and L-band spectrum.
The Inmarsat-5 series of satellite is built on the Boeing 702HP satellite bus. Being more than 13,000 pounds in weight, it is too massive to allow a recovery attempt of the Falcon 9 booster's first stage.
The Inmarsat satellites are positioned above Earth's equator in a geostationary orbit that allows as few as three satellites to capture and provide global coverage.