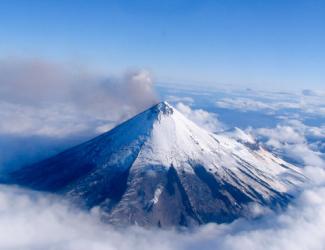 There is a possibility that the Mount Pavlof in Alaska could erupt for the third time this year by the end of 2016. Alaska Volcano Observatory (AVO) has based its predictions based on increasing seismic activity and steam emissions from the volcano.
Owing to the release of a steady plume of steam from the mountain, state authorities have raised the alert level for the area from normal to advisory status, also known as a yellow alert. The officials said that the level of seismic activity at Pavlof Volcano is elevated but is lower than recorded last day.
Nothing much could be known, as clouds covered Webb camera views of the volcano with one aspect displaying a potential small steam emission.
Lately, the volcano that is located on the southwestern end of the Alaska Peninsula has erupted in May and earlier in March this year. In the March case, ash plumes were sent to around 40,000 feet above sea level. It even led to the cancellation of many flights.
Alaska Airlines canceled 41 flights throughout the state owing to the eruption, affecting 3,300 travelers. Alaska Airlines spokeswoman Bobbie Egan shared that they do not take the risk during such situation and simply do not fly.
In March 2016 eruption, the ash was tracked in satellite data as distant as eastern Canada. Volcanic ash is not safe for aircraft, as it can shut down jet engines. Volcanic ash enters jet engines, and the heat can melt the ash into a hard glass that is sufficient to clog and destroy machinery powering the craft.
There has been a case- in December 1988 eruption of Alaska's Mount Redoubt. It erupted with an ash cloud of 150 miles that caused the failure of two engines of a KLM flight. The flight was carrying 231 passengers.
The May eruption was the first time in two decades when alarming ash-fall was recorded on the ground. Barrett Taylor, a village public safety officer in Nelson Lagoon, shared that Nelson Lagoon, a village 55 miles northwest of the volcano, turned into black, everything from the rooftops, the fuel tanks, and homes.
Pavlof is not the only volcano in the Aleutians that has been showing signs of unrest. Cleveland Volcano, located in the western part of Chuginadak Island, has also exhibited signs of magma movement beneath its frozen exterior.
Last time, the volcano erupted in 2001 and spewed trio of clouds to an altitude of 39,000 feet above sea level. Since then, debris from the mountain has sometimes reached the shorelines.