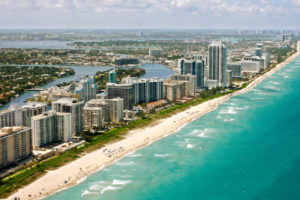 According to multiple reports a couple of weeks ago, Florida Governor Rick Scott (R), a longtime climate denier, had effectively muzzled the state officials whenever it came to global warming.
Officials at the Florida Department of Environmental Protection have claimed that they are not allowed to use the catchwords "climate change" or "global warming" in any formal communications.
Following the reports, Scott and his press office have insisted that the reports were wrong and nobody was ever given any such order, curtailing DEP officials' word choice.
So far, there is no documented evidence in the governor's defense, but only anecdotal claims from former employees at the Florida Department of Environmental Protection. Each one of them said they were given unwritten instructions, in which they were told to avoid the use of climate-related words.
Last week, the story took an upsetting turn when a DEP employee was reprimanded, sent home and was told to get a medical clearance before returning to the office after he criticized the Keystone XL pipeline project and talked about his concerns about the climate crisis.
But when the Miami Herald reported it, the story also took a far more amusing turn, last week, at a state Senate hearing.
While testifying before the Legislature, on Thursday, Bryan Koon, Gov. Rick Scott's chief of emergency management, possessed a half-dozen occasions to apply the phrase climate change, but he would not speak the C-words.
Koon was asked about FEMA requirements that states have 'climate change plan' in order to receive preparedness dollars by State Sen. Jeff Clemens (D), but he said that he's aware of the requirements, and that going forward, Florida's hazard mitigation plan will 'have the language to that effect'.
Instead of saying 'climate change', he only said 'language to that effect'.
So, further Clemens pressed joking that he's tempted to use the phrase 'atmospheric reemployment' as the language that the governor might be able to endorse.
It is very difficult to imagine that if the governor didn't order officials to avoid the climate-related phrases, then why Florida's chief of emergency management had gone to such lengths.